Oh, what to do with all of those dyed Easter eggs? Eat them of course! One of Kiddo's all-time-favortie breakfast foods is a hardboiled egg; so plenty of ours get eaten that way. There are some other great recipe ideas out there too to help you use up those colorful eggs. Here are some of my favorites.
Salads for Lunch

I love to pack Kiddo a salad in his lunch. Its a nice change for the warm spring days. The key to Kiddo is that he does NOT like lettuce. Therefore, his salads are lettuceless (is that a word? LOL) salads. What his salads have in them:
hard boiled egg, cheese, tuna or diced up chicken, tomatoes, and cucumbers.
Sometimes I make it a tuna or chicken salad by adding mayo and sometimes I just add a touch of ranch dressing. Of course if I do that he always wants some black olives in the salad too and maybe some pasta.
Deviled Eggs
6 hard boiled eggs cut lengthwise, remove yolks and put them in a bowl.
Add 1/4 cup of mayo, 1/2 tsp of mustard, salt/pepper to taste, and 2 tsp of dill relish. Mix well and refill back into the egg whites with a spoon. Top with a sprinkling of paprika.
Egg Salad Sandwiches
This recipe came from Simplyrecipes.com and it is wonderful. Not your typical egg salad sandwich recipe. Keep in mind this recipe is only for one sandwich.
1 hard-boiled* egg (large), peeled and chopped
1-2 Tbsp mayonnaise (to taste)
2 Tbsp chopped celery
1 Tbsp chopped green onion
Curry powder (to taste)
Salt and pepper (to taste)
1 leaf of lettuce
2 slices dark rye bread, toasted
Mix the first 6 ingredients together well then put the mixture on top of one slice of bread, add lettuce (a tomato slice too if you would like) and top with the other slice of bread. Tasty!
I hope you all have had a wonderful Easter weekend and I hope you try some of these recipes. And before I go here is a picture of Kiddo Easter Egg Hunting at church yesterday.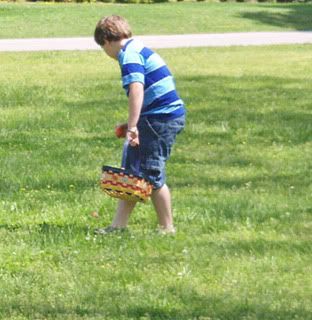 Cute isn't he?