I have made these several times and they are always a hit. I think they are the perfect recipe for Christmas Morning because they are so easy to make. I found the recipe on www.tammysrecipes.com, I found several recipes while searching and this one is by far the best.
Homemade Cinnamon Raisin Biscuits
What you need:
1 cup whole wheat flour
1 cup white flour
4 tsp. baking powder
1 tsp. salt
1 tsp. cinnamon
3/4 cup butter
1/2-1 cup milk* (you may need less than this, just enough to make a biscuit consistency)
1 cup raisins
What you do:
Mix together your dry ingredients and cut your butter into them. I like to dice my butter up then use my hands to mix it in the dry ingredients. I just work it in until the butter bits are the size of peas.
Now add your milk and mix, then stir in your raisins.
Put your dough on a flour service and pat it with your hands out till its about 1/2 inch thick. Use a floured biscuit cutter (or a glass in my case) and cut out your biscuits. Place them in a sprayed baking pan (be sure they are touching)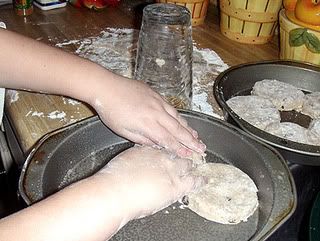 and bake them at 450 degrees for 10-13 mins.
Mix up this yummy glaze and drizzle it over cooled biscuits.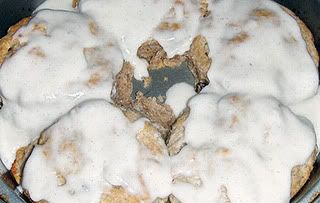 *Glaze
3 Tablespoons softened butter
1 teaspoon ground cinnamon
1 3/4 cups powdered sugar
2-3 Tablespoons milk
Mix together 3 Tablespoons softened butter and 1 teaspoon ground cinnamon. Add 1 3/4 cups powdered sugar and stir. Add about 2-3 Tablespoons of milk and beat with electric mixer on HI for a minute or until light and fluffy.
These are so yummy, so light and so fluffy.
Enjoy!