Kiddo loves being in the kitchen with me. Everytime I am cooking he always comes in and says 'Momma do you have anything I can help you with?' He tells me all the time that he wants to be a chef when he grows up and that we will own a restaurant together. This past Monday was his 10th Birthday. Ten years old, how did that happen? Where did the time go? My Mom gave him two cookbooks for his birthday, one was a Pillsbury cookbook and the other one was 'The Southern Living Cookbook for Kids.'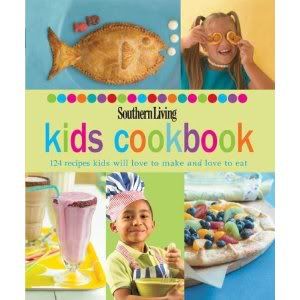 Both have some great recipes but he picked two to try from the Southern Living one first. The other night for dinner we made the Chunky Cheese Soup and for breakfast this week we made the Banana Roll Ups, twice. Don't worry I am going to share them both with you, but in this post I am going to share the breakfast recipe.
Banana Roll Ups-Breakfast
What you need:
1/2 banana sliced
1 whole wheat tortilla (we warmed ours up a bit)
Peanut butter
Honey
Chocolate Chips
What you do:
Spread the peanut butter on one side of the tortilla. Place your banana slices in a row on the peanut butter. Drizzle honey over the bananas and sprinkle the chocolate chips on top. Now roll it up, cut it in half and you have a delicious breakfast wrap!
*Here is the link to the cookbook for sale on Amazon.com
http://www.amazon.com/Southern-Living-Cookbook-Recipes-Hardcover/dp/0848731786