I got this recipe from one of my old Kraft Food and Family magazines. It is simple and tasty. My whole family ate it up, actually they were circling the kitchen like vultures while it was cooking. *wink*
What you need:
1 can of beef broth
1/4 cup of water
1/2 tub of cream cheese (I used a bit more than that, pretty much the whole container)
1 small jar of sliced mushrooms drained (I omitted this and used peas instead)
2 cups of egg noodles
*The recipe asks for frozen prepared meatballs but I made my own.
My meatballs:
1lb of ground beef, 1 tsp of sage, 1 tsp of cumin, 1 tsp garlic salt and 1 tsp of onion powder. I combined all of these and formed the meatballs.
What you do:
Cook your egg noodles until done, drain and set aside.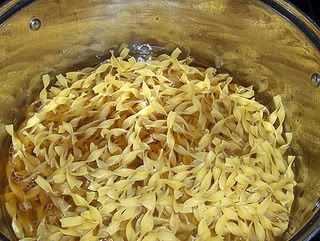 Put your pot back on the stove, spray with non stick spray and cook your meatballs.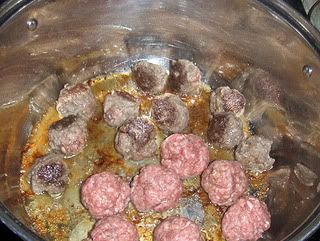 Be sure they are browned on all sides and done all the way through. You can take one out and slice it to ensure they are done. Remove your meatballs from the pot, drain the drippings and return your noodles and meatballs to the pot. Add your broth, water, cream cheese and your peas (or mushrooms) cook for about 15 mins stirring until smooth.
This is super yummy, super creamy and super comforting!