Tonight is pizza night at my house! Are we ordering in? Heck no! Not calling Dominos tonight. I have a yummy homemade pizza dough recipe I am making, again. I orginially found this recipe on www.jamiecooksitup.blogspot.com and she got it from www.thepioneerwoman.com, both are favorite websites of mine. So without further rambling from me, here is the recipe.
What you need:
1 t yeast
1 1/2 C warm water
4 C flour
1 t salt
1/3 C olive oil
What you do:
Add your yeast to your warm water and set it aside.
Combine the flour, salt and olive oil until well combined. *Be sure to add the olive oil slowly while mixing. You can use an electric mixer for this.
Now add the water/yeast mixture slowly and combine.
You can either let this rise for 2 hours or you can put it in the fridge and let it rise all day. Super easy!
When you are ready to make your pizzas punch your dough down, divide it in 2 halves. Let it rest for about 5 mins then spread it out on your pizza stone or cookie sheet. Top with your favorite toppings and enjoy!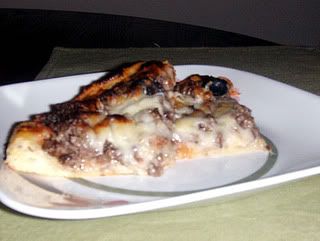 We topped ours with hamburger, cheese, sauce and black olives. Tonight I will be adding turkey pepperoni to the toppings.