My sister made these and took the picture. I have not tried one yet but she and my brother-in-law say they are wonderful! She says they are not like at typical cookie and almost have a 'muffin like' consistency. I have a few bananas in the kitchen right now. I am thinking I might give them a try.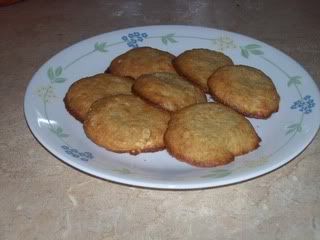 What you need:
1/2 cup of unsalted butter, room temperature
1 cup of sugar
1 egg, room temperature
1 cup of mashed bananas (about 2 ½ large bananas)
1 teaspoon of baking soda
2 cups of flour
* I would do one cup of regular flour and one cup of wheat flour*
pinch of salt
1/2 teaspoon of ground cinnamon
1/2 teaspoon of ground mace or nutmeg
1/2 teaspoon of ground cloves
1 cup of pecans (walnuts and chocolate chips would be good too)
What you do:
Preheat the oven to 350°F. Cream the butter and sugar together until light and fluffy. Add the egg and continue to beat until the mixture is light and fluffy.
In a bowl, mix the mashed bananas and baking soda. Let sit for 2 minutes. The baking soda will react with the acid in the bananas which in turn will give the cookies their lift and rise.
Mix the banana mixture into the butter mixture. Mix together the flour, salt, and spices and sift into the butter and banana mixture and mix until just combined.
Fold into the batter the pecans or chocolate chips if using. Drop in dollops onto parchment paper-lined baking sheet. Bake for 11-13 minutes or until nicely golden brown. Let cool on wire racks.
Makes about 30 cookies.
(She got the recipe from www.simplyrecipes.com)
Enjoy!
Sharing this on Mommy's Kitchen Potluck Sunday.