I have an announcement to make, and I'm kinda proud of it. My son has been in school since August 9th and I have packed his lunch every single day of the school year. I have always been a big lunch packer but I admit I did slack off a bit at the end of the last school year. I am planning to pack all year. He loves what I pack, I know it is healthy and I know it is enough food for him. The portion sizes at our school are a bit meager to say the least.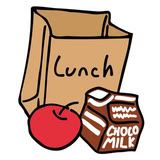 I'm going to update this post all week to share with you all what I pack him this week.
Tuesday- Boarshead beef pastrami and colby cheese roll ups, cheddar sunchips, Honest Kids Appley Everafter Water Beverage and Watermelon balls.
Wednesday- Little potatoes in his thermos which I had grilled the night before in olive oil, balsamic vinegar, thyme and garlic salt. Watermelon balls, and some snap n crunch peas. Water to drink.
Thursday- Boarshead beef pastrami, cherry tomatoes, diced avocado, vanilla yogurt, cheddar sunchips, organic chocolate milk to drink.
Friday- Turkey pepperoni, black olives, mozz. cheese chunks, Ritz crackers, watermelon balls and organic chocolate milk.
*Here are some of my favorite lunch box blogs:

http://whatsforschoollunch.blogspot.com/
What Are My Kids Eating?
http://graysonandharper.blogspot.com/
http://fedupwithschoollunch.blogspot.com/
http://bravenewlunch.blogspot.com/
I hope you can stop by some of these great blogs and check them out. Meanwhile keep checking me out all week to see what Kiddo is eating for lunch.