Last week I made my first trip of the season to our local farmer's market, and it was a good one! The tomatoes were huge, the veggies were so fresh, and the prices were great.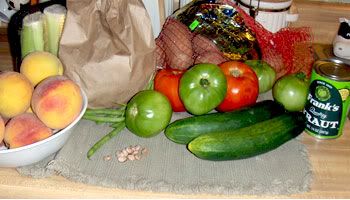 This is what we had for dinner that night. Pinto beans, cornbread, fresh tomatoes, fried green tomatoes, grilled corn on the cob, cucumbers, fried potatoes and peaches. YUMMY! It was such a wonderful meal.
Do you have a local farmers market?
Have you ever done a dinner with nothing but fresh veggies?
My family loves to do dinners like these in the summer. I guess it goes back to the huge garden my Grandfather had when I was a kid. We had many veggie loaded dinners during the summer months back then.
Ahhhhh...I love summer.