I am constantly on the look out for tasty, healthy and easy treats to enjoy during the summer months. Popsicles would seem like a logical solution but if you've ever cruised the freezer isle and actually read the labels you know that isn't always so. All of these colorful and cold treats 'look' so good for you. They have fruit in them, how could they be bad?
Well, lets take a moment and read some labels. You can decide for yourself which one you would rather buy.
*This comes from Edys.com. The fruit bars come in many different flavors, pineapple, coconut, orange cream, grape and many more.*
Ingredients: water, sugar, pineapple, citric acid, modified corn starch, guar gum, carob bean gum, ascorbic acid (Vitamin C), natural and artificial flavor, annatto color, Turmeric Extract Color
Nutritional facts Amount per 1 Bar
Calories
Calories from Fat 80
Total Fat
Saturated Fat
Trans Fat (g)
(g)
(g) Cholesterol (mg) Sodium (mg) Total Carbohydrates
Dietary Fiber
Sugars 19 (g)
0 (g)
18 (g)
Protein (mg)
Calcium % Does not Contain Nuts Gluten-Free Kosher

Ingredients: Water, Pear Juice (from concentrate), liquid sugar, sugar water, high fructose corn syrup, corn syrup, orange juice (from concentrate) watermelon juice (from concentrate), rasberry juice (from concentrate) vegetable juice for color, citric acid, malic acid, guar gum, cherry juice (from concentrate), natural flavor, asorbic acid, locust bean gum, annatto (for color), turmeric (for color)
Calories 30
Sodium 0
Carbs 8gs
Sugars 6gs
Protein 0
Vitamin C 8%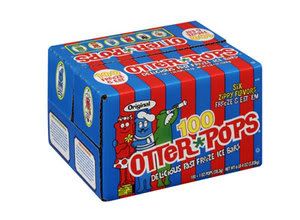 Pasteurized for purity and wholesomeness, Otter Pops are a delicious fast freeze treat. Ingredients: WATER, HIGH FRUCTOSE CORN SYRUP, FRUIT JUICE (CONTAINS ONE OR MORE OF THE FOLLOWING: APPLE, GRAPE OR PEAR JUICE FROM CONCENTRATE), CONTAINS LESS THAN 2% OF THE FOLLOWING: CITRIC AND/OR FUMARIC ACID, NATURAL AND ARTIFICIAL FLAVORS, SODIUM BENZOATE AND POTASSIUM SORBATE (PRESERVATIVES), RED 40, YELLOW 5, YELLOW 6, BLUE 1 Protein:0g
Nutritional Facts:
Calories 15
Fat 0
Sodium 0
Carbs 4g
Sugars 4g
Protein 0
There are the facts of 3 popular popsicle products, the decision is yours.