Sunday was my first day of grilling dinner and boy did it turn out great! We had steak, corn on the cob, potatoes and cucumber dill salad. I got my cucumber dill salad recipe from Siggy Spice:
http://siggyspice.blogspot.com/2010/05/creamy-dill-cucumber-salad.html
This is a really yummy one; go on over and give it a try.
Ok now on with the dinner recipes.
I had a great find at Publix on Sunday. I got 3 New York Strip Steaks for $14.00, great deal!
*Marinate your Steaks in Balsamic Dressing and 2 tblsp of Worsteshire Sauce for 1 hour.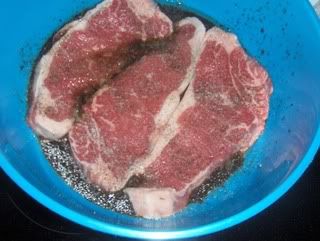 *Grill to your liking, my husband likes his cow still mooing. My son and I prefer our steaks actually done however.
_____
Potatoes
*I peeled and diced 3 baking potatoes in small pieces
*Coat your potatoes in Olive Oil, Italian Seasoning and Garlic Salt
*Tear a large piece of foil, spray with non stick spray
*Put potatoes in the middle of the foil and make a packet
*Grill for about 30 mins on Med-Med High, until tender
______
Corn on The Cob
My son did these all by himself and was very proud.
*Shuck your corn
*Tear pieces of foil to wrap your corn in
*Spray your corn with olive oil non stick spray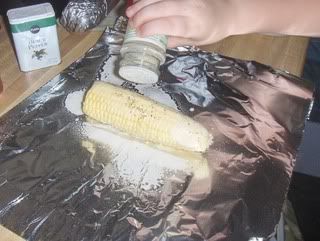 *Sprinkle garlic salt and pepper on each corn cob
*Wrap your corn cobbs and cook them on the grill for about 30mins on Med-Med High heat.
______
Last is my yummy breakfast recipe. I got this from a Kraft Food and Family Magazine I have had for years. It is called 'Breakfast Bruschetta' and very healthy as well as tasty.
*1 piece of whole wheat/ whole grain bread toasted
*Spread cream cheese over toast, then spread orangle marmalade or jam over the cream cheese
*Top your toast with sliced strawberries and bananas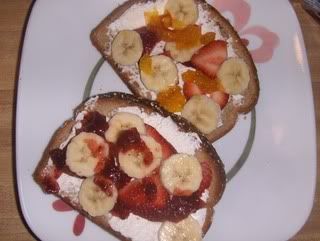 I am sure you could mix this up all kinds of ways. I put strawberry preserves on my husband because he prefers strawberry to orange.
______
I hope you enjoy these yummy recipes! I know our family did.
This is kiddo's plate; he came back for his second corn on the cob and more steak.