Summer is upon us, and if I have not expressed it lately, woohoo! I love summer, the warm weather, the afternoon storms and especially the fresh veggies. I love visiting our local farmers market and I love growing my own garden. This year we have two raised beds in our backyard.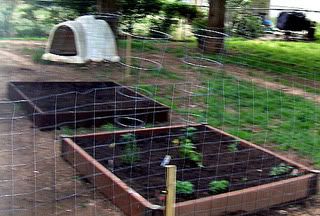 (Notice the fence around the garden? That is to keep the big ox dog and the little bad boy cocker spaniels out)
This picture is from a little over a month ago. My plants have taken off since then! We have cilantro, rosemary, oregano, basil, tomato plants, peas and cucumbers in our garden. We are also growing a garden at my sister's house. There we have corn, okra, tomatoes, bell peppers, watermelon and chili peppers. We have harvested a few tomatoes so far but there are many more delicious things to come. My mouth is watering just thinking about it all.
Are you growing a garden this year? And if so what are you growing?