Ahhhhhh...Mexican Food, we love it. We love to cook it and we love to eat it. I am always on the look out for a new Mexican dish to make. This is one I have been making for years now. It is pretty easy but it also has my Aunt Net's fried rice in it. This fried rice is a cherished family dish. Many have attempted it and only a few have mastered it. I am lucky to be one of those few who can make it just like my Aunt Net did. (BTW Aunt Net stands for Aunt Jeanette, my sister and I could not say Jeanette when we were little. Thus, the name Aunt Net was born.) I could eat this rice all by itself, with a little salsa on top or in a yummy burrito like I did in this recipe.
What you need:
Fried Rice (Long Grain white rice to cook which will make the fried rice)
Black Beans
Corn
1 bell pepper sliced
1 onion sliced
garlic salt
cumin
chili powder
chicken broth
steak strips
shredded cheddar cheese
sour cream
salsa
tortillas
canola oil
What you do:
First you want to start your rice. Put 2 tablespoons of oil in a large skillet, heat it for a minute or so and then add 1 cup of rice. Cook the rice in the oil until it starts to toast. You want it a nice golden brown but don't burn it. Once your rice is toasted add 2 cups of chicken broth, 2 large teaspoons of cumin, 1 tsp of chili powder (more if you like heat) 2 tsp of garlic salt and 2 large tablespoons of salsa. Stir and cover your rice. Let it cook on med to low heat until done, about 30-40mins or as long as the package says. VERY IMPORTANT do not buy instant rice, it will not be the same. Add more chicken broth if it requires more liquid.
While your rice is cooking....
In another skillet add 2 tablespoons of canola oil, heat and then add your strips of onion, bell pepper and your steak strips. Season with garlic salt, cumin and chili powder. I just add a sprinkling of each then add more if I want later.
Drain and rinse your black beans and corn, set aside.
Once your rice and steak mixture are done it is time to build your fajitas.
You know how.....
Put your tortilla on your plate, add your beans and corn.
Ok now pile on your rice, steak, onions, peppers, cheese and sour cream.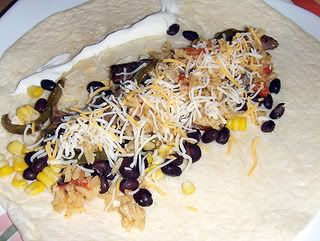 Looks great doesn't it?
Now cut it in half and eat it up!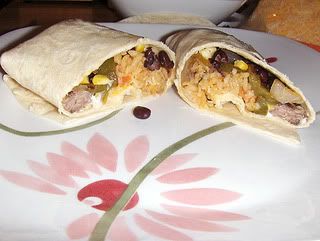 Wonderful! I hope you all will enjoy my Aunt Net's rice as much as I do. It is a real staple around our house and doesn't stick around long.