This post is about a month late, my apologies. Honestly I got so totally wrapped up in the end of the school year festivities that time just got away from me.
Anywho...at the end of April Kiddo had a 'Pioneer Day' at school. The children got to dress like pioneers, learn like pioneer children did, and experience activities such as doll making and biscuit making. They also got to bring a pioneer lunch to school. No ice packs, juice boxes or warm food in a thermos allowed. Here is a picture of Kiddo's lunch that day.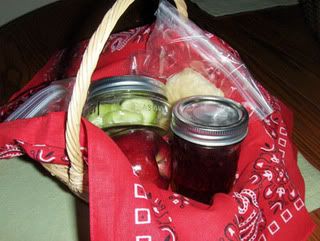 Sliced Cucumbers in a mason jar
Homemade Biscuit
Beef Jerky
Apple
Sweet Tea in a mason jar
He came home and declared that he would like a pioneer lunch every day at school.
Has your child ever had a special day like this at school? If so, share it and tell us about it.