In my last post I rambled on and on about 'Back to School'. Being a working mom with a kiddo in school and trying to get something good in his tummy every morning, well it can be a challenge sometimes. I can only imagine what moms of more than one kid go through! My rules are simple, it has to taste good, it has to stick to his gut, be healthy and I like for it to be something warm, especially when cold weather comes.
I came upon this recipe a few months ago and we have had is several times since then. I found it in one of my little Everyday Food magazines. I did make a few changes to the recipe, but I will post the original recipe here as well.
What you need:
1 8oz package of Morning Star Veggie Breakfast Sausage Patties Cooked and Crumbled (**I did not use Morning Star. I actually bought uncooked turkey sausage, cooked it and crumbled it up) But I think it is a great idea for a vegetarian meal if you use morning star.
3/4 cup yellow cornmeal
1/3 cup all purpose flour
1 tsp baking powder
1/2 tsp baking soda
1/4 tsp salt
1 cup buttermilk
1 egg
2 tablespoons unsalted butter melted
1 cup of frozen corn, thawed
3/4 cup of pepperjack cheese (I used cheddar)
Preheat oven to 400 degrees. Line 12 muffin tins w/ papers and spray with non stick spray.
What you do:
combine dry ingredients and set aside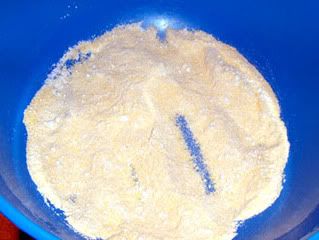 combine wet ingredients then fold in cheese, sausage and corn, add to the dry ingredients.
spoon into muffin tins and bake for 18-20mins. These were super good and super easy! They keep for up to 3 days in the fridge or you can freeze them.
They keep in the fridge really well. We popped them in the microwave for about 15 secs and they were even better the second time!
Linking this post up on Potluck Sunday! Come on over and see what everyone else is bringing.