This recipe is soooooooooooooooo....good! Actually it is to die for. I was just googling around one day searching for a good pound cake recipe when I happened upon it, I found it on allrecipes.com. I had blueberries in my fridge from my bushes and needed to use them, this was the perfect solution.
What you Need:
2 tablespoons butter
1/4 cup white sugar
2 3/4 cups all-purpose flour
1 teaspoon baking powder
1/2 teaspoon salt
1 cup butter
2 cups white sugar
4 eggs
1 teaspoon vanilla extract
2 cups fresh blueberries
1/4 cup all-purpose flour
What you do:
Preheat your oven to 325 degrees
Mix together your 2 3/4 cup of flour, salt, and baking powder, then set aside.
Rinse blueberries, put in a bowl and coat them with about 1/4 of a cup of sugar (I let mine sit for about 30mins like this) then dredge them with 1/4 cup of flour.
In another bowl cream together 1 cup of butter and 2 cups of sugar, beat your eggs in one at a time and add vanilla. Beat your flour mixture gently until mixed. Add your blueberries, I used my hands to take them out of their bowl and discared the extra flour from them.
Gently fold blueberries into batter.
Kiddo was in the kitchen helping out with this recipe.
Grease your bundt pan with 2 tablespoons of butter, or spray it with non stick spray (this is what I did) Then coat the pan with sugar.
Pour your batter in your pan and bake for 1 hour and 10mins (this is what the recipe asks for, mine only baked for an hour and it was done)
Let the cake cool in the pan for about 10 mins before taking it out.
Slice and enjoy!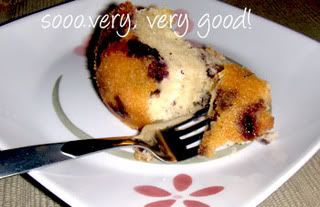 This was a very good recipe! Most pound cakes need a glaze but this one DID NOT. The sugar really made the outside crispy and the inside was nice and moist.
I'm linking up to Mommy's Kitchen Potluck Sunday.

Head on over and check out what everyone else is bringing to the potluck!