I got this recipe from my Spring Kraft Food and Family, it is super easy, yummy and the cupcakes are so cute!
Mix together one package of Angel Food cake mix according to package.
Fill lined muffin tins about 2/3 full with batter
Bake on 375 for 12-15mins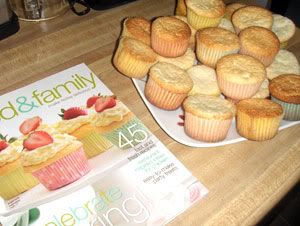 Topping....
Mix one package of vanilla pudding with one small can of crushed pineapple (use the juice from the can too)
Once mixed together fold in 1 cup of coolwhip
After cupcakes have cooled spread the topping on each one and then put a fresh sliced strawberry on top of the cupcake.
These are so good and so pretty!
I'm participating in Mommy's Kitchen Potluck Sunday.