If you're like me you are always looking for a tasty, easy-to-make, treat for your kiddos to enjoy in the morning. I try every morning to be sure that my son has something warm in his tummy before he heads off to school. In a fantasy world that would mean that I have time to cook every morning, but in reality I don't. Therefore I tend to rely on things I can make during the weekend that are easy warm ups for school mornings.
Today I have been busy in the kitchen making apple jam in my breadmaker and Buttery Cinnamon Biscuits. (from Flavors of Fall by Gooseberry Patch)
These biscuits are sure to be a hit this week on the cold mornings to come. I know I love em', as I've already sampled one.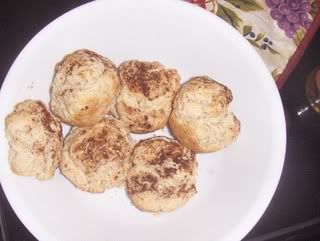 You will need:
2 c. all-purpose flour
4 t. baking powder
2t. sugar
1/2t. salt
1/3c. butter, sliced
2/3 c. apple cider (I used Simply Apple Apple Juice)
1/4t. cinnamon
1/8t. nutmeg
What you do:
Mix flour, baking powder, sugar and salt; cut in butter to form coarse crumbs. Stir in cider/apple juice; mix well until soft dough forms.
***here's where I changed it up. I kneaded my dough in my large mixing bowl instead of putting it on a floured surface. I hate the mess of kneading it on the counter.
Spray muffin tins with non-stick spray. Pull off about a golf ball size amount of dough, pat it in your hands until it is the size of the bottom of a muffin tin.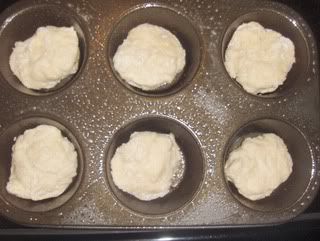 Place biscuits in muffin tin and sprinkle with the cinnamon and sugar.
Bake for 12-15mins on 450 degrees.
I topped mine with honey today but I'm sure the apple jam will taste great on them, or even just butter.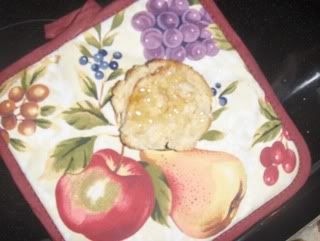 Enjoy!
*This recipe has been linked up to Cookbook Sundays.