Sure they can!
One of my favorite magazines/websites has some great healthy halloween treat ideas. www.kraftfoodandfamily.com
Here are a few of them:
Spooky Eyeball Beans
Prep Time: 5 min Total Time: 30 min
Makes: 8 servings
What You Need1 jar (18 oz.) oven-baked beans 1 can (16 oz.) kidney beans, drained, rinsed 1 jar (10 oz.) small whole onions, drained 3/4 cup KRAFT Honey Barbecue Sauce
Make It
MIX all ingredients in saucepan.
BRING to boil on medium heat. Reduce heat to medium-low.
SIMMER 20 minutes or until heated through, stirring occasionally.
******************************
Skeleton with Brain Dip
Prep Time: 15 min Total Time: 15 min
Makes: 8 servings
What You Need!1/2 leaf lettuce leaf 1 cup KRAFT Ranch Dressing 4 cups assorted cut-up fresh vegetables (red and yellow bell pepper strips, cucumber slices, snow peas, mushroom slices, celery sticks, carrot sticks, cherry tomatoes, broccoli florets, cauliflower florets)
Make It!
LINE half of small bowl with lettuce for the skeleton's hair; fill with dressing. Place at one end of large tray or baking sheet for the skeleton's head.
ARRANGE vegetables on tray to resemble skeleton's body.
**********************************
Ghastly Goblin Grins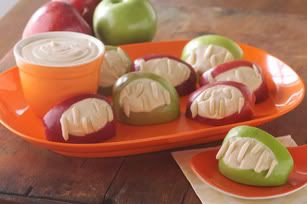 Prep Time: 20 min Total Time: 20 min
Makes: 8 servings What You Need!1 pkg. (8 oz.) PHILADELPHIA Cream Cheese, softened 1/2 cup packed brown sugar 1/2 tsp. vanilla 2 large apples, cut into quarters 1/4 cup PLANTERS Slivered Almonds
Make It!
BEAT cream cheese with mixer until creamy. Add sugar and vanilla; mix well.
CUT thin wedge in peel side of each apple piece; fill with 1 tsp. cream cheese mixture. Insert 4 to 6 nuts in cream cheese mixture in each apple to resemble teeth.
SPOON remaining cream cheese mixture into serving bowl. Serve with apples for dipping.
********************
Stay tuned for more fun ideas as Halloween 'creeps closer'.......