This is such a simple potato salad recipe. My Grandma has been making this recipe for years and it is the best. I have tried many others but this is the potato salad I always come back to. Honestly I could put my head in this bowl and not come up for air until the bowl is empty.
What you need:
1 bag of potatoes (I like Idaho potatoes)
1-1/2 onion (I used red because that is what I had but you can use yellow or whatever you have on hand)chop it finely or in larger pieces, whatever you prefer.
1-1/2 cup of pickles chopped (dill pickles)
1/2 cup of mayo (add more if you like, but start with 1/2 cup and add more later)
1/4 cup of mustard (like the mayo start with this and add more later)
1/4 cup pickle juice (dill pickle juice)
6 eggs
salt and paprika to taste
What you do:
Peel and chop your potatoes. Place them in a large pot of water, put your eggs in too. Add a few generous pinches of kosher salt to your water. *Potatoes really soak in salt* Cover and boil for about 15-20 mins or until your potatoes are fork tender.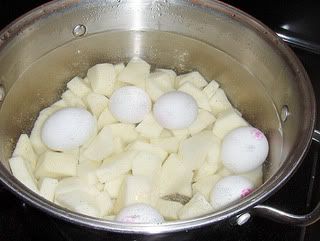 Remove the pot from the stove and drain the eggs and potatoes. Place them in a large bowl. Peel and chop your hardboiled eggs. Add your mayo, mustard, pickles, pickle juice and onions.
Mix it all together well, add more mayo, mustard and salt if you would like. Be sure to taste it before adding more of anything. By the way I like to add a little more pickle juice to mine, I love the taste of pickles.
Now sprinkle the top of your potato salad with paprika and enjoy!
This would make a great side for your 4th of July celebration. I know it will be at mine.