Welcome to Kids In The Kitchen! Over the next few weeks I am going to share some great recipes that are easy and get your kids in the kitchen. Now onto today's recipe...Watermelon Smoothies! Yes, you read that right and they are delicious. Watermelon is one of the best parts of the summer and any way I can make it is bound to be a good way.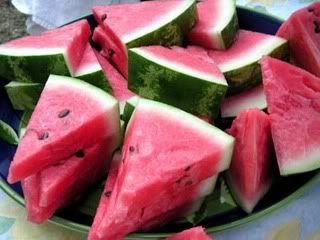 My son took a cooking class at my school a few weeks ago. In the class he made a Watermelon Mint Smoothie. This smoothis is so refreshing and wonderful! I urge you to give it a try ASAP.
Watermelon Mint Smoothie
2 cups diced peeled seedless watermelon
1 1/2 cups diced strawberries, frozen
1/4 cup chilled guava juice or guava nectar
1 tablespoon chopped fresh mint
Combine diced watermelon, frozen strawberries, chilled guava juice, and chopped mint in blender. Puree until smooth. Pour smoothie into 2 glasses.
My son made several other kid friendly cooking and kid friendly eating recipes while he was in cooking class. He also made his very own cookbook. I cannot wait to share some of his recipes with you over the next few weeks.
I am sharing this in Potluck Sunday @ Mommy's Kitchen.

Pop over and see what everyone else is bringing to Potluck Sunday.