This comes from a friend of mine, she's a bloggy buddy and an iVillage buddy, Lynn. If you haven't checked out her blog you really should: www.punkaroonie.blogspot.com, she has some really yummy recipes over there.
When I first started using my bread machine back in February this was the recipe I made. Family was coming over for a Pot Roast dinner and I did not feel like making a run to the store for bread so I went looking for an easy recipe. This was the one I came upon and it has been a keeper ever since.
French Countryside Bread
1 3/8 cups water
1 1/2 tablespoons olive or vegetable oil
1 1/2 teaspoons salt
4 cups white bread flour
1 tablespoon granulated sugar
2 teaspoons active dry yeast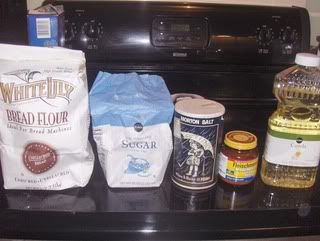 Place ingredients in order given by manufacturer of your bread machine.
Select French or Basic setting and desired Crust Color setting; press start.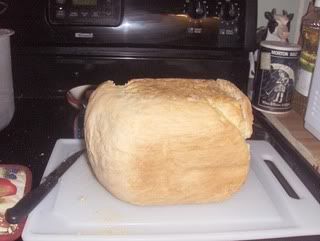 Makes one (2 pound) loaf
Enjoy!
*I am linking this post up to Mommy's Kitchen Sunday Potluck.